Home > About Barnes > History of the Town of Barnes > Germann Road Wildfire of 2013
Germann Road Wildfire of 2013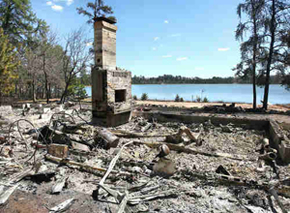 At approximately 2:30pm on May 14th, 2013 a wildfire started in southern Douglas county on the Germann Road NE of Simms lake.
We will be updating this page with new information as it becomes available. Please check the links below.
Fire Victim Assistance/Donation Information
Excellent source of Information
From Douglas County Emergency Government
Items to Consider After a Wildfire
From Bayfield County Emergency Government
Fire Caused by logging equipment
Logging worker saw smoke, tried to extinguish fire while co-worker called 911.
Officials say a thorough investigation has demonstrated that no negligence was involved and there was no intentional setting of the fire to the land. The DNR, after consultation with the Douglas County District Attorney, is recommending no criminal charges be filed.
5/16/2013 evening - The DNR's FLIR plane (this is the aircraft equipped with the infrared camera) flew over the wildfire area to help fire crews find and suppress the hot spots.
5/16/2013 - Acreage adjusted to 8,131 acres.
47 structures lost - 17 were homes. 77 structures saved.
As of 9pm, 5/15/2013 - fire is 100% contained! Acreage adjusted to 8,495 acres
All public roads are open, but drive cautiously in the fire area. All fire lines have been secured and crews are moving into mop-up phase.
Evening of 5/15/2013 - Gov. Scott Walker declared a state of emergency in Douglas and Bayfield counties.
As of 3pm, 5/15/2013 - the fire is about 9,000 acres and 95% contained.
Structures: lost - 47, 17 were homes
Saved - 77
DNR Hotline - (715) 376-4185 to end at 10:30pm 5/16/2013.
Starting 5/17/2013 call Brule Ranger Station, 715-372-4866, from 8 to 4:30, M-F to learn about the status of your home and property.
Additional Resources
Property Affected by Fire
From Douglas County
NOAA Weather Summary
Describes weather leading up to the fire and during the fire.
DNR Incident Page-Germann Road Fire

DNR Wildfire Report for 5/16/2013

Duluth News Tribune article
Wisconsin wildfires wrath was swift, severe - Thursday, May 16, 2013
DNR Situation Report - 5/15/2013 3:14pm

DNR Initial News Release - 5/14/2013

Embers Wake Up
Prevention YouTube Video
DNR Letter From the Secretary
5/17/2013
Evacuees Return Home
(Duluth News Tribune)
Superior Fuel Company helping those impacted
Fund setup; making donations. (Duluth News Tribune)
DNR identifies logging company responsible for starting fire
WQOW - Eau Claire, WI - Friday, 5/17